Afghanistan



The clothing is inspected, sorted and put into bags by a group of volunteers. By having the clothing organized before shipping, the distribution at the receiving location is much easier.




Bags of clothing are stacked on pallets ready to be loaded into the container. Plastic bags protect the clothing and yet are flexible so the clothing can be used to fill open spaces in the container.




Using fork lifts, pallet jacks and lots of hands, it took only three and a half hours to load the 40 foot container. Sometimes, because of the odd shaped items, it is like a puzzle to get every bit of space filled. This is where the clothing in bags comes in handy - to fill these odd shaped spaces. To the right we finish off with as many bikes as we can squeeze in. This shipment had 120 bikes. It was almost a four month journey for the container. It traveled from Oakland, California to Karachi, Pakistan then into Afghanistan where it arrived in Kabul on October 20, 2003.




Linda Levitsky of the East Bay Depot for Creative Reuse puts the finishing touch on our first shipment to Afghanistan.




Volunteers from St. Vincent DePaul worked hard to load the container. It is such a pleasure to work with these dedicated people.
| | |
| --- | --- |
| | After a four month journey the container arrived in Kabul and is unloaded at a house that was rented to provide additional classroom space for the occupational school (ARISE). Despite the arduous trip by sea and then by truck through Pakistan and Southern Afghanistan, everything arrived in good condition. The contents filled three rooms and a courtyard. They were quickly put to use. |
| | |
| --- | --- |
| | The Container traveled by ship to the seaport of Karachi, Pakistan then by truck across Pakistan, into Afghanistan and on to Kabul. |
Just a few years ago these young ladies (above) wouldn't be allowed outside with their faces showing and without an escort from their family. They weren't allowed to go to school (now the majority of the students in the ARISE school are women). They had a strict dress code and would never have been allowed to have a bicycle. It is great to see that in just a few short years there is such progress for women.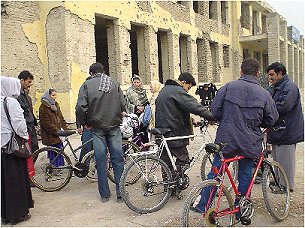 While this container provided just a small amount of assistance to an area that has been devastated by war and years of stifling oppression, you can't help but see hope in these photos. The high school building in the background was severely damaged and is need of renovation, but you can see the future in these faces.